Two Stage Compressor
Two Stage Compressors consist of two or more cylinders. The first stage, low pressure (LP) cylinder is always larger in diameter than the second stage, high pressure (HP) cylinder. The atmospheric air enters into LP Cylinders through inlet filter & valves and passes to HP cylinder through intercooler and HP inlet valves. The air is for higher pressure by HP cylinder and then delivered to final destination. The highly efficient intercooler provides maximum heat dissipation between stages, resulting in more air per horse power and less trouble from carbonization.
Economically priced, Paras Compressor Two Stage Value Packaged Air Compressors are perfect for automative, commercial of light industrial applications where a dependable air supply is required. The value package includes the added features of a mounted and wired starter, automatic start / stop pressure switch control with suitable size receiver tank.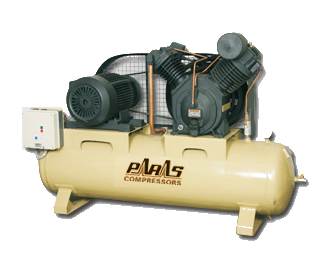 Technical Specifications :
Model
Motor
HP
No. of
Piston
P.D.
C.F.M.
F.A.D.
C.F.M.
Pressure
PSIG
Bore x Stroke (Inch)
Receiver (Liter)
01-324
2
2
7.46
6.70
150
3&1.3/4 x 2.3/4
150
02-324
3
2
9.79
7
150
3&1.3/4 x 2.3/4
150
2430
3
2
8.9
6
150
3&1.3/4 x 2.3/4
150
2430
5
2
11
8.80
150
3&1.3/4 x 2.3/4
150
03-332
5
2
17.32
12.50
150
4&2.1/2 x 2.3/4
225/250
2565
5
2
17.3
14
150
4&2.1/2 x 2.3/4
225/250
04-332
7.5
2
19.30
14.50
150
4&2.1/2 x 2.3/4
225/250
2565
7.5
2
22
18.10
150
4&2.1/2 x 2.3/4
225/250
05-343
7.5
2
26.40
19.90
150
5&3 x 3.1/2
225/250
2635
7.5
2
29.8
24.70
150
5&2.3/4 x 3.1/2
225/250
06-343
10
2
30
21.50
150
5&3 x 3.1/2
250/300
2635
10
2
37.8
30.80
150
5&2.3/4 x 3.1/2
250/300
07-161T2
10
2
44
32
150
5.1/2 & 3 x 4
250/300
7190
12.5
2
54.9
41
150
5.1/2 & 3 x 4
250/300
08-161T2
12.5
2
55
41
150
5.1/2 & 3 x 4
250/300
7190
15
2
60
47.20
150
5.1/2 & 3 x 4
300/350/450
09-105T
15
3
81.80
50
150
5&5&3.1/2 x 4
300/350/450
10-105T
20
3
90.80
67
150
5&5&3.1/2 x 4
300/350/450
3090
25
3
90
68
150
5&5&5.1/2 & 4 x 4
300/350/450
11-105T
25
3
106
77
150
5&5&3.1/2 x 4
500
3090
30
3
109
85
150
5&5&5.1/2 & 4 x 4
500
3090
40
3
120
90
150
5&5&5.1/2 & 4 x 4
500